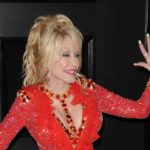 Dolly Parton and Kelly Clarkson have teamed up for a reimagined version of Parton's iconic hit, "9 to 5." The original version of "9 to 5" appears on Parton's 1980's album, 9 to 5 and Odd Jobs.  The remake of the 1980 classic, produced by Shane McAnally, first premiered last spring in the documentary Still Working 9 to 5, which reunited the cast of the original film: Dolly Parton, Jane Fonda, Lily Tomlin and Dabney Coleman.
Parton shared in a press release: "Nobody sings like Kelly Clarkson. She makes any song come alive  I love her voice on '9 to 5,' and I am so proud I got to sing with her on it. I'm equally as proud of the wonderful arrangement and production by Shane McAnally."
Clarkson added: "I am so honored that Dolly asked me to reimagine this iconic song, '9 to 5,' with her! She is so talented, an inspiration to all women, and one of the sweetest people you will ever meet! I hope y'all like what we did, but even if you don't, remember I got to sing a duet with the magical Dolly Parton, and now have bragging rights til the end of time!"
"9 to 5" was written by Parton for the iconic comedy film of the same name. The song and film owe their titles to 9to5, an organization founded in 1973 with the aim of bringing about fair pay and equal treatment for women in the workplace. The track went on to earn Parton an Academy Award nomination, four GRAMMY Award nominations as well as two GRAMMY Award wins for Best Country Song and Best Female Country Vocal Performance.
You can listen to Clarkson and Parton's reimagined version of '9 to 5' – here.
Editorial credit: Kathy Hutchins / Shutterstock.com